Juan B. Alvarado
Juan Bautista Valentin Alvarado y Vallejo was born in Monterey, Alta California on February 14, 1809. He was appointed Governor of California at the age of 27. Governor Alvarado was a political foe of Pio Pico
of Southern California.

Santa Barbara's Founders Day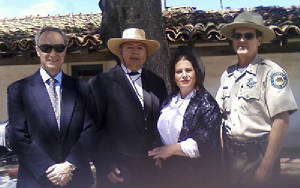 Spanish Consul, The Governor, The Lady, State Park Rep
The Spanish Consul and CA State Park rep visited
the Santa Barbara Presidio to celebrate the 229th
Anniversary of the founding of the city by the Spanish
explorers. The consul was met with much fanfare as
was Mexican Governor Juan B. Alvarado (Lou Lopez)
and his lovely lady of Monterey, Senorita Julianna
Francisca Ramona y Castillo (Maria Hurtado).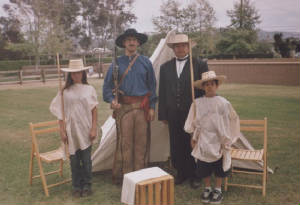 Pio Pico Living History Day
At various events visitors have a chance to participate
in becoming Californios. The youths are dressed up
to represent the era, and given duties to perform. The
youths learn the history of California from a different
viewpoint, not just from reading a book.
Other Californio Events:

Rancho Days Fiesta, Heritage Hill Historical Park
Lake Forest, Orange County, CA
Date - To Be Arranged
Click the link for updated information:
Battle at Dominguez Ranch, Rancho Dominguez Adobe
Rancho Dominguez, Los Angeles County
October 7, 2012 - event usually held early in October
For further information, click the following link:
Latino History Parade, La Pintoresca Park Festival
Pasadena, Los Angeles County, CA in October
Click the link for more information: