23rd Royal Welsh Fusiliers
The British Are Here!
The colonial era is alway represented by the 23rd Royal Welsh Fusiliers in America. When ever possible, they recreate a Revolutionary battle. This group is a crowd favorite every year.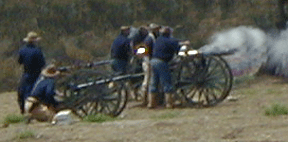 Spanish-American War Artillery Support
Western Educators, Shooters & Troopers will
go all out at the next Fort MacArthur Museum's
Annual Living History Event and Fundraiser.
The 2013 show will take place on July 6 & 7,
the week after the Fourth of July holiday. So
come enjoy the 'Old Fort MacArthur Days.'

The famous Great War Germans
The German Imperial Troops have always been a favorite
of the crowd during the Old Fort MacArthur Days event.
Be sure to check out this group. With all the groups
participating in the Old Fort MacArthur Days event,
there is always something going on during the Biggest
Reenactment Show and Living History Event in the
City of the Angels, Los Angeles, California.

The General
General of the Army - Douglas MacArthur