After the war began with the United States, former
Governor Juan B. Alvarado joined the Californios
militia. After Andres Pico won the Battle of San
Pasqual near San Diego, Jose Maria Flores took
over command of the defenses of Los Angeles.
As Flores met the Americans in the Battles of
Rio San Gabriel and La Mesa, Alvarado went
north towards Monterey. As Monterey was his
home, he was concern about his family. Alvarado
was also concerned about his lady friend, the
lovely Juliana (Raymunda) Castillo.
Andres Pico, Californio commander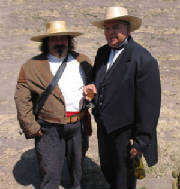 with former Governor Juan Alvarado
Juliana Francisca Castillo
'Raymunda'

In July the city of Monterey was captured by American
forces under Commodore John Drake Sloat. The town
of Santa Cruz was then captured by Lt. Maddox. As
Jose Castro and Juan Alvarado neared the mission at
San Luis Obispo on the way to Monterey, Castro turned
over the Californios forces under Alvarado's command.
Castro then fled for Mexico. Then on August 14, 1846,
Don Juan B. Alvarado was captured by Lt. Maddox in
the city of San Luis Obispo.


Commodore Robert Stockton captured the town of
Los Angeles and left a small force to hold the area.
The Californios led by Jose Maria Flores forced the
American garrison to retreat towards San Pedro in
late September. Stockton sent over three hundred
American reinforcements, led by Captain William
Mervine, U.S.N., to recapture Los Angeles. The
Americans were repulsed by Californio lancers in
the Battle of Dominguez Rancho. The battle was
fought from October 7 through 9, 1846, near the
area of the Dominguez adobe.
The Battle on the Rancho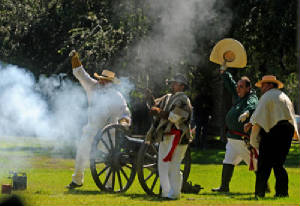 The Californios are Victorious
The Californios defeated the Americans in the Battle of
Dominguez Rancho. The defeat forced the Americans
to withdraw to San Diego. San Diego became the main
gathering point for the American forces that would retake
the town of Los Angeles.
To learn more about the life of former
Governor Juan B. Alvarado,
click on his picture below.